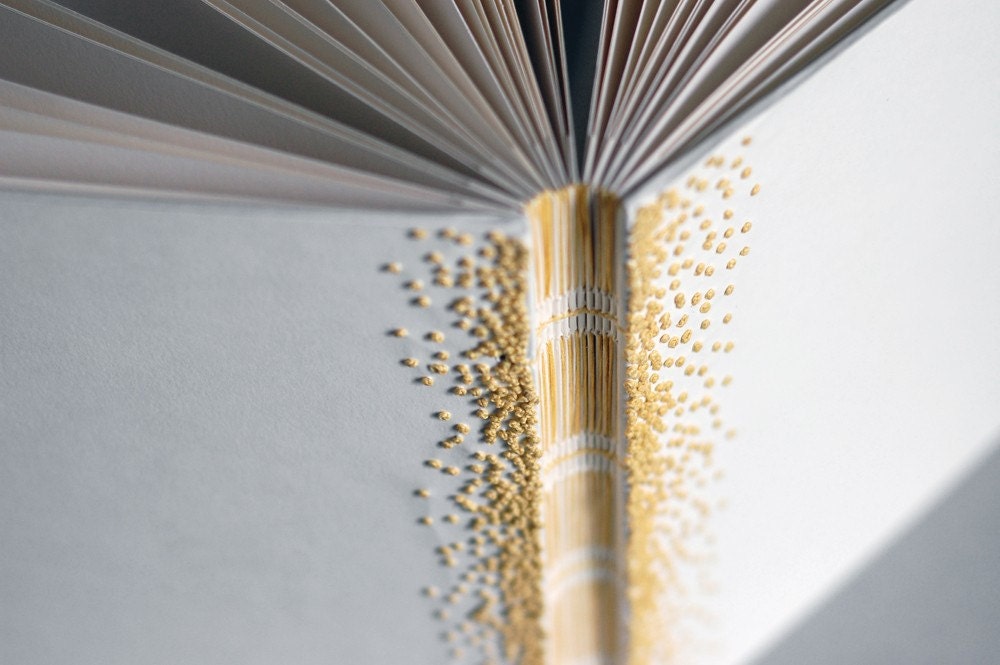 I've long been an admirer of
bookbinder Natalie Stopka's
work on Etsy, where she has a shop called
NatalieAsIs
. As a fellow bookbinder, I can especially appreciate her highly technical stitch work and fierce attention to detail. Her books are a beautiful combination of simplicity and complex tiny details. Read on for an interview:
How did you learn bookbinding?
I began studying bookbinding while I was at the Rhode Island School of Design for Illustration. I loved the idea of bookbinding as a way to control the complete experience of the viewer, including the words, images, design, and structure of a book. Since graduating I have been mostly self-taught, and binding at a wild pace. I learn something new with every piece.
Where do you do your work, do you have a studio?
I have recently moved to New York to work and study at the Center for Book Arts as a Van Lier/Stein Family Scholar for the coming year. I now share studio space with the printers, binders, and students at the Center. It is a remarkable resource and community!
Are you a night owl, or an early bird?
I generally work during the day, but it is not uncommon that I am stitching away at some little cover piece until the wee hours, oblivious to the time.
What are your three favorite items in your shop right now?
I work so often with fiber arts, I'll choose my three favorite fiber techniques at the moment: a new series of albums with woven spines, a guest book embroidered with gold, and a little ombre dyed journal.
Thanks so much Natalie! Isn't her work stunning? You can find Natalie on the web at her website
NatalieStopka.com
, and her books are for sale in her Etsy shop,
NatalieAsIs
.